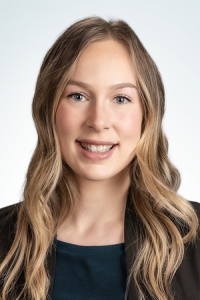 Alexandra Daigneault
CPA auditor
Mrs. Alexandra Daigneault obtained her Bachelor's degree in Business Administration from HEC Montreal in 2019 as well as a Graduate Diploma in Chartered Professional Accountancy in 2020. She passed her Common Final Examination of the Ordre des Comptables Professionnels Agréés du Québec in September 2020.
Mrs. Daigneault joined the firm at the beginning of 2020 as a trainee and works principally on compilation mandates. She also prepares corporate and personal tax returns.
Having worked in customer service from an early age and being involved in her university's tax clinic for many years, Mrs. Daigneault has developed an unparalleled dedication and professionalism, making her an employee who easily stands out with her high-quality service.
Direct Line:
450-424-3208
Extension:
7449