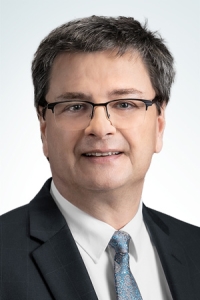 Alain Rheault
Partner – Assurance,
CPA auditor
Mr Alain Rheault obtained his Bachelor's degree in Accounting from Université du Québec à Montréal in 1982. He became a member of the Ordre des Comptables Agréés du Québec in 1986.
Mr Rheault started his career in 1983 and became a partner of Bourassa Boyer inc. in 1989. He was manager of the Professional Practice of the firm until 2016 and has served as manager of IT services since 2000. He was a co-founder of an IT services company and the "action plan 360" concept (multidisciplinary alliance). He is also a director of the Vaudreuil Business Center (syndicate of commercial properties) since 2011, of the Association des gens d'affaires de L'Île-Perrot (AGAIP) and of the Notre-Dame-de-Fatima Centre (NDIP) since 2017.
Mr Rheault is an expert member of the Centre de transfert d'entreprise du Québec (CTEQ) (index: No 3998). He offers his accounting expertise to business clients active in diverse sectors and his approach focusses on value creation, consulting services, action plan development, creation of SME advisory boards and the realization of business transactions (purchase, sale, merger, succession).
Mr Rheault is a member of the Ordre des Comptables Professionnels Agréés du Québec and the Association de planification fiscale et financière.
Administrative Assistant: Bonnie-Anne Roy
Phone: 450-424-3208, ext. 7208
Fax: 450-424-2398
Email: baroy@bourassaboyer.com
Direct Line:
450-424-7880