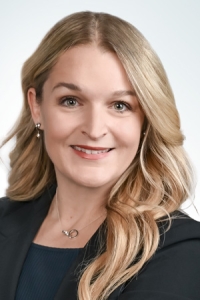 Amélie Rhéaume
Partner – Assurance, CPA auditor
Mrs Amélie Rhéaume obtained her Bachelor's degree in Business Administration from the École des Sciences de la Gestion de l'Université du Québec in 2008 and a Graduate Diploma in Public Accounting in 2009. She became a member of the Ordre des Comptables Agréés du Québec in 2011.
Mrs Rhéaume joined the firm in 2011 after starting her career in a well-known firm in Montréal. She has acquired an experience in accounting, assurance, consulting and taxation, especially in personal taxation. She serves a clientele in various sectors such as manufacturing, distribution, professional services, land development and construction. She is also a member of the personal tax return audit team. Passionate about her work, dynamic and driven, Mrs Rhéaume is appreciated by her colleagues and her clients. She is involved in university recruitment and business development of the region along with other young professionals. She has been a member of the social fund committee for five years.
Mrs Rhéaume is a member of the Ordre des Comptables Professionnels Agréés du Québec.
Administrative Assistant: Carole Pomerleau
Phone: 450-424-3208, ext. 7209
Fax: 450-424-2398
Email: cpomerleau@bourassaboyer.com
Direct Line:
450-424-3208 Extension:7427