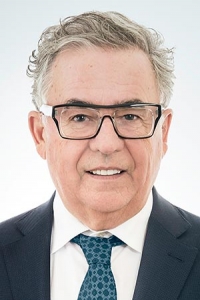 Jean-Marie Bourassa
Advisory Partner,
CPA auditor
Co-founder of Bourassa Boyer inc., Jean-Marie Bourassa served as the firm's Chief Executive Officer until 2018 and has since remained available to his clients as an advisory partner in our assurance practice. He obtained his Bachelor's degree in Business Administration from HEC Montréal in 1974 and became a member of the Ordre des Comptables Agréés du Québec in 1976. In 2009, he obtained his certified corporate director accreditation (ASC) from Université Laval.
With more than 40 years of experience in assurance, financial planning and advisory services, Mr Bourassa's enviable expertise has been built through a wide variety of mandates in the real estate, manufacturing, construction and management sectors. He is known for his accessibility, expertise in diversified mandates and entrepreneurial sense, all of which makes him a sound advisor in the planning and execution of his clients' projects.
Mr Bourassa serves on the Board of Directors of TSE-listed companies including Savaria Corporation, where he held the position of Chief Financial Officer until May 2019, and 5N Plus inc., where he has served as Chairman of the Audit and Risk Management Committee since 2007. Mr Bourassa has also served as the co-chair and chair of the the Vaudreuil-Soulanges Palliative Care Residence Foundation from 2012 to 2016.
Administrative Assistant: Dominique Lefort
Phone: 450-424-3208, ext. 7205
Fax: 450-424-2398
Email: dlefort@bourassaboyer.com
Direct Line:
450-424-7001