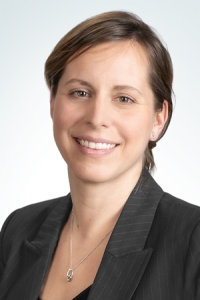 Me Geneviève Leblanc
Lawyer, D. Tax
Senior Director – Legal Services
Following studies in Business Management at McGill University, Ms. Leblanc obtained her Bachelor of Laws from the Université de Montréal in 2010 and has been a member of the Quebec Bar since 2011. In 2018, Ms. Leblanc also completed a Specialized Graduate Diploma in Taxation from HEC Montreal.
Following a stint as a student within a renowned international law firm based in Montreal, Ms. Leblanc articled and began her career in Quebec City in a private firm specialized in the areas of civil and corporate law before joining the firm in 2013. As part of her duties, Ms. Leblanc is called upon to serve a Francophone and Anglophone clientele mainly composed of entrepreneurs working in various industries and members of professional orders to guide them in corporate and commercial law. Ms. Leblanc is regularly called upon to incorporate business corporations and set up other legal entities, to draft and interpret various types of commercial agreements, commercial leases and shareholder agreements, as well as to participate in the setting up of the legal documentation required under the terms of the purchase and sale of businesses, the integration of key employees and corporate reorganizations planned with her Accountants and Tax specialists colleagues with whom she collaborates on a daily basis.
In addition, during a recent work experience within an international financial group, Ms. Leblanc had the opportunity to perfect her skills in compliance, governance and corporate management as well as in the insurance industry.
Always eager to deepen her knowledge, Ms. Leblanc helps our legal department to stay abreast of legal news by taking charge of the organization of internal continuing training sessions.
Ms. Leblanc is also a member of the firm's Marketing Committee and the Key employees' incentives plans Committee as well as of the Quebec's businesswomen network.
Direct Line:
450-424-3208
Extension:
7610