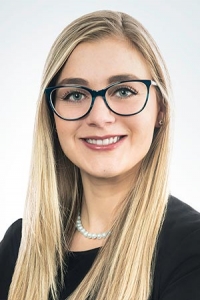 Camille Gravel
CPA auditor, M. Sc.
Mrs Camille Gravel started her academic path with a Bachelor's degree in Business Administration from HEC Montréal in 2017. She also obtained a Graduate Diploma in Chartered Professional Accountancy (CPA) in 2018. With her excellent academic performance, she obtained both diplomas with distinction. Looking to deepen her knowledge, she continued studying at HEC Montréal and obtained her Master's degree of Science in Administration (Accounting, Control, Audit), also with distinction.
Mrs Gravel's professional path began in a large firm and continued at HEC Montréal where she completed a teaching internship for the 2018-2019 school year. She is currently a lecturer at HEC Montréal in management accounting. She joined Bourassa Boyer in 2019 and mainly carries out compilation mandates and participates in various audit mandates for private companies.
Mrs Gravel is a member of the l'Ordre des Comptables Professionnels Agréés du Québec.
Direct Line:
450-424-3208
Extension:
7447